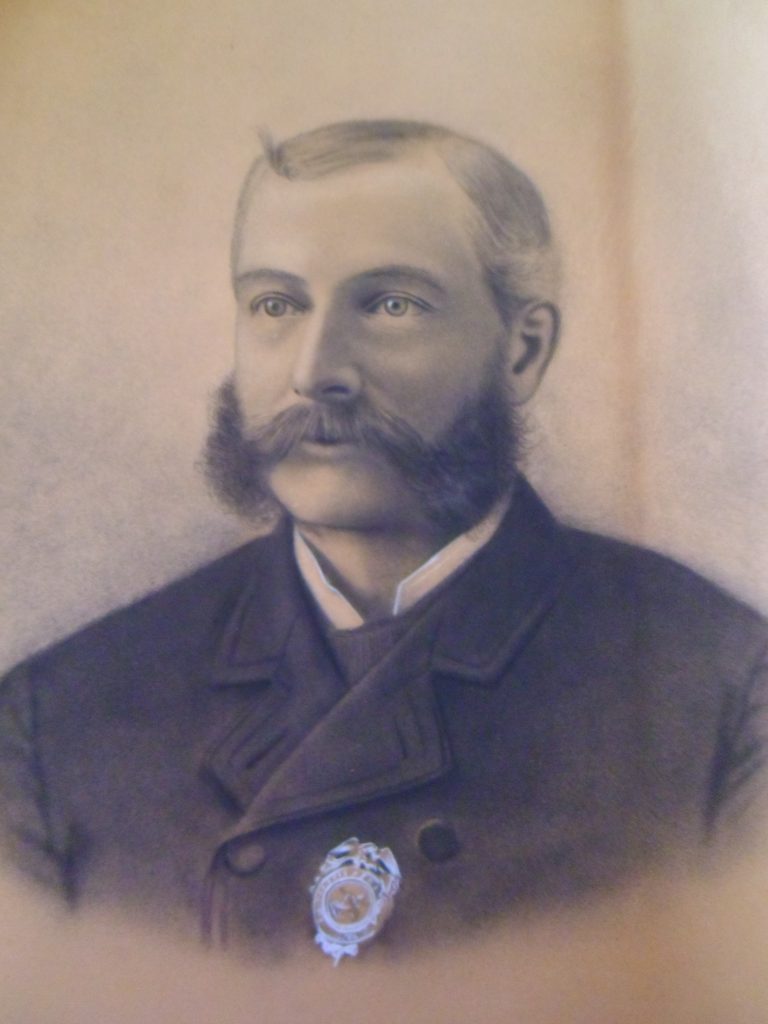 William Virgil Wilson was born in Milford, Connecticut on December 26, 1845.  His father, Elisha Wilson married Julia A. Benjamin of Milford and together they had eight children.  Of the eight, only three survived; William V., Eugene B., and Lillian E.  William Wilson went on to be educated at Yale, graduating from the Yale Medical School in 1867.  Dr. Wilson then relocated to South Brunswick, New Jersey where he practiced for eighteen years,  twelve of which he spent working as the surgeon for the Pennsylvania Railroad in New Jersey.  Dr. Wilson moved from South Brunswick to Willington, Connecticut and, in 1887, moved to West Haven.  He was married to the former Nellie H. Brayton of North Adams, Massachusetts and together they had five children; Cornelia G., Philip E., Nellie A., Nettie, and Elizabeth B.  Dr.Wilson was a member of the Connecticut State and Yale Medical Societies and was also vice-president of the Medical Practitioners' Protective Alliance of the United States.
Dr. Wilson's father Elisha built the first telegraph line through the Naugatuck valley.  He also invented the telegraph repeater about the year 1846.  The telegraph repeater was one of the most successful inventions of the age and without it, long distance telegraphy of one, two, and three thousand miles could not be accomplished on the single circuit over land lines.
It is not certain exactly when Dr. William V. Wilson officially became the first Chief of Department.  On April 22, 1889, in the wake of the Hinman Hotel and the M. P. Williams Livery fires, Dr. Wilson put forth a motion before the Warden and Burgesses of the borough "To investigate a combination fire engine and finances".  This motion was seconded by a Mr. Hoffmeister and a committee of three consisting of Dr. William V. Wilson, Mr. Charles T. Sherman, and Mr. Joseph Andrews was formed.  On the advice of this committee the borough purchased an #3 Crane Neck Button Hand Fire Engine along with 800 feet of fire hose and a two wheeled hose cart.  These were the first pieces of firefighting equipment to be purchased by the West Haven Fire Department.  The department still has the Hand Pumper to this day and it can be seen at the Savin Rock Museum in West Haven, CT.
Although it is documented that Dr. Wilson was Chief of Department from as early as 1889, he was not officially appointed by the Warden and Burgesses until April 5, 1892.  On this date the following motion was brought before the panel:
"Motion that William V. Wilson be and is hereby appointed Chief of the West Haven Fire Department, said appointment to terminate December 5, 1892.  It being understood that the Chief receive no compensation for services rendered."
Dr. Wilson would remain Chief of Department until his resignation on May 15, 1893.  On June 6, 1893, Adolphus J. Thompson became our second Chief of Department.  Chief Thompson held the top spot until March 17, 1898, when he stepped down to run for the position of Warden.  (He lost).  On March 18, 1898, William Wilson once again took over as Chief of Department and became the only man to hold the office of Chief twice.  He did not seek to remain Chief for another term and was replaced by Andrew B. Wilkinson on January 10, 1899.